RottenPop Rating - 49/100
Director: Roy William Neill
Writer: Curt Siodmak (original screenplay)
Stars: Ilona Massey, Patric Knowles, Lionel Atwill
Country: USA
Language: English
Release Date: 5 March 1943
Production Co: Universal Pictures
DID YA KNOW: Several photos exist showing the deleted scenes (the fireside chat between the Monster and Talbot beneath the icy catacombs of the castle for instance; where Talbot & the audience learn that the Monster is still blind). This has been confirmed by several sources, including screen writer Curt Siodmak. In the mid-'80s a search was made through the Universal Studio vaults for a print or negative of the uncut prerelease version. As of this date, it has not yet been found.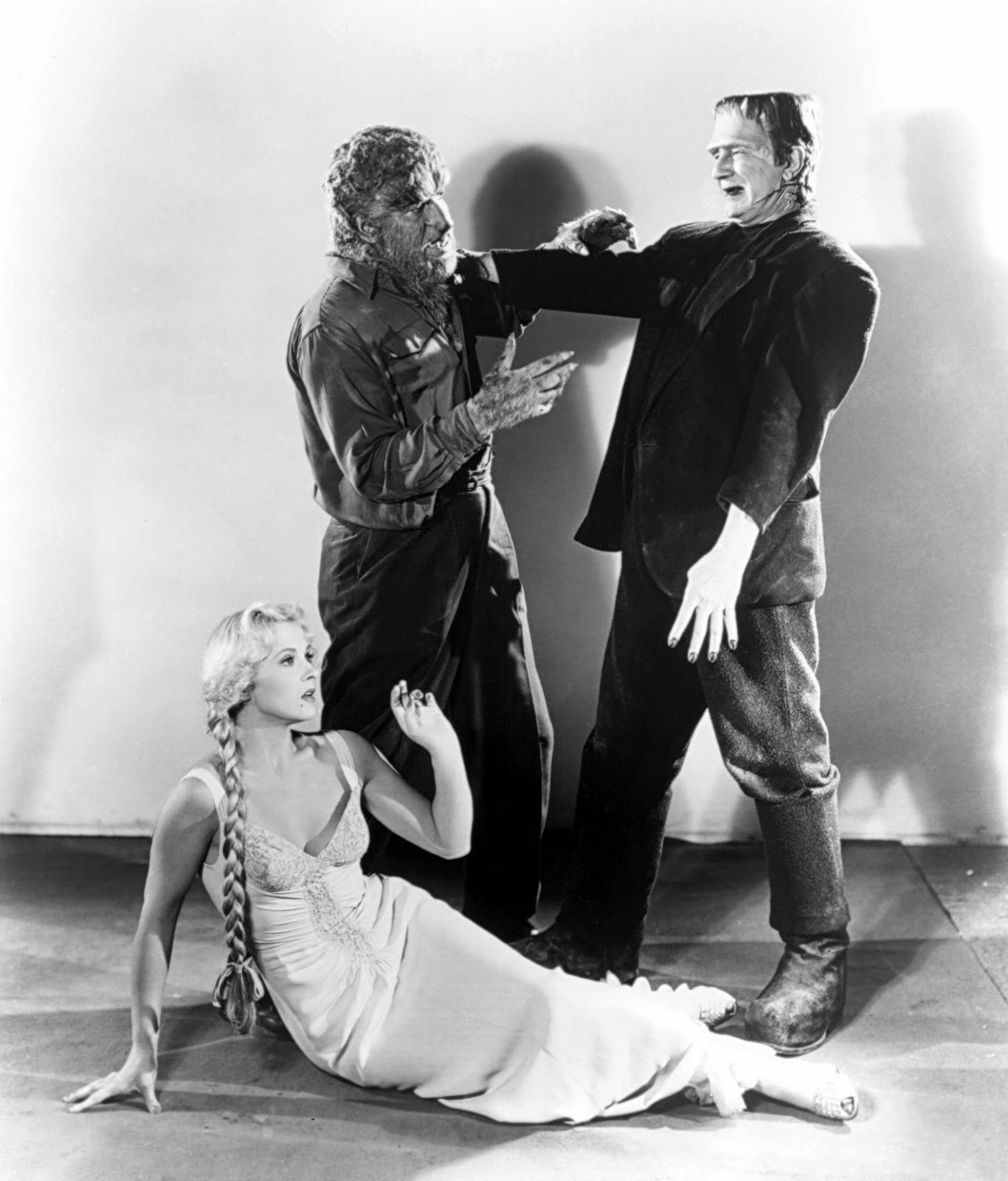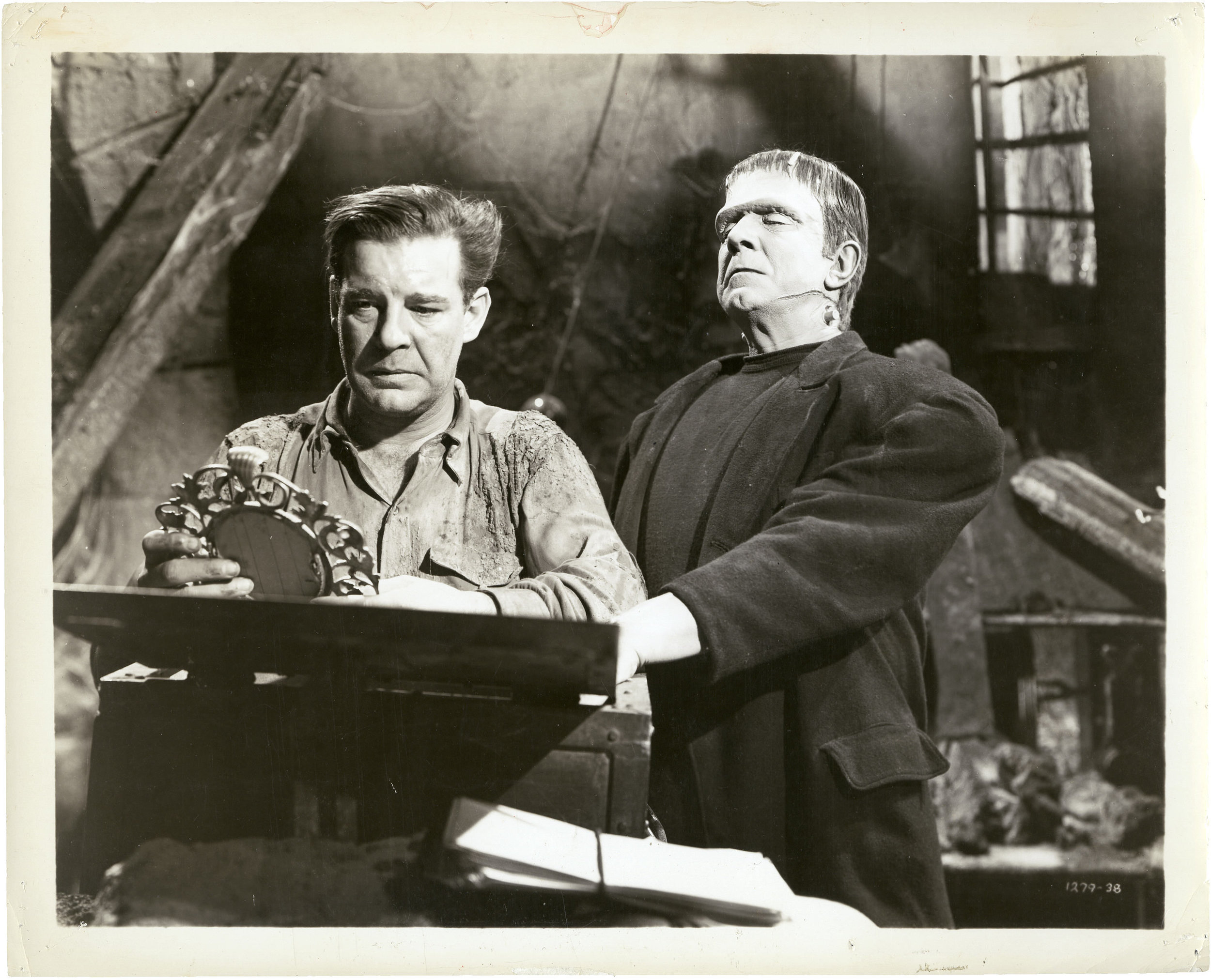 Frankenstein meets The Wolfman is an American horror movie from Universal Pictures, produced by George Waggner and directed by Roy William Neill. It was released in 1943, and is a direct sequel to the 1941 feature, The Wolf Man and a follow up to the 1942 film, The Ghost of Frankenstein. Frankenstein meets the Wolf Man featured Lon Chaney Jr. and Bela Lugosi in their third picture. 1943 is a troublesome year. The world is deep entrenched in its second greatest war, and audiences aren't exactly galloping out the door for horror movies. So, Universal decided to start a shared universe, or at least an early attempt. It's the first official version of the Universal Dark Universe.
Two robbers break into the Talbot family crypt and remove the wolfsbane holding Larry Talbot, on the night of a full moon. The moonlight awakens the beast inside of Talbot, bringing him back to life. But he is weak. Found by the police in the morning, Talbot is taken into the hospital for a head-wound. He is obviously frazzled by learning that he cannot die. Seeking to correct this problem, Talbot goes back to the old Gypsy woman and seeks her assistance. She knows of one person that can help kill him, Doctor Frankenstein. However, upon discovering Frankenstein castle in ruins, Talbot and the Gypsy woman find only Frankenstein's Granddaughter, and of course The Monster.
Lon Chaney Jr. far outshines Lugosi, who appears to be hamming it up quite a bit. He doesn't look comfortable and his makeup is wonky. Karloff had his performance down to a swagger. But Lugosi is way off. Lionel Atwill was great as always. Maria Ouspenskaya was wonderful as Maleva, the Gypsy woman. While, Ilona Massey portrayed Baroness Elsa Frankenstein, and had a mostly forgettable role.
Frankenstein meets the Wolf Man is great if you like Universal Monster movies. It has a wonderful cast, an interesting plot and two different monsters. It's not as good as the original Frankenstein or Wolf Man, but nothing really stands up to the originals. Even putting these icons together. At least this original Dark Universe is doing better than the new one.