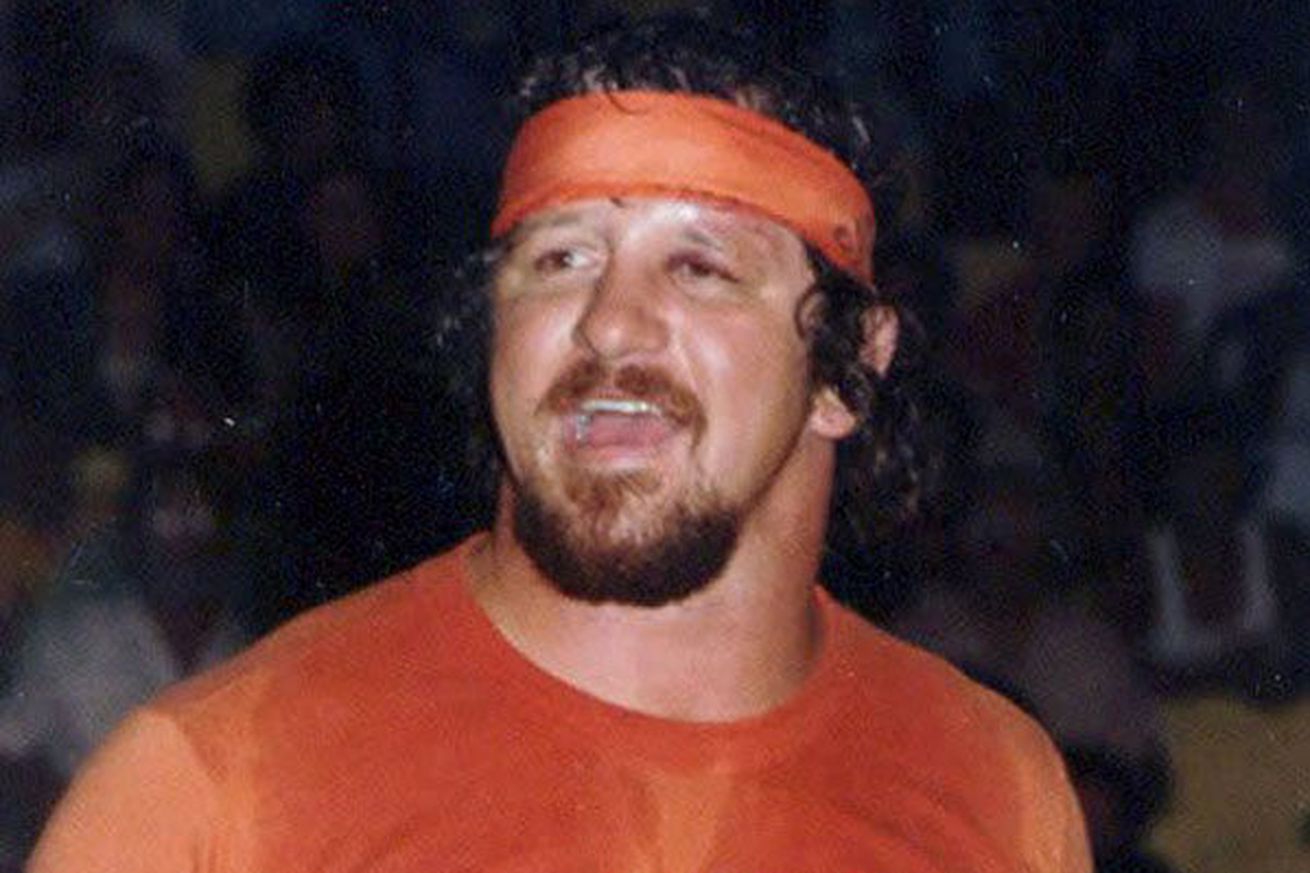 GIRL SCOUT COOKIES
BLUE CUT
FROM AIR FIELD SUPPLY CO.
Last week, I sat down and smoked some good Golden Strawberry and watched Rikidozan matches. Today I am in a Texas mood. So I am tearing into some delicious 24.6% Girl Scout Cookies Blue Cut and watching Terry Funk matches. We're gettin' Funked this morning! The GSC Blue Cut is a strong Indica/Hybrid that doesn't relax you too much but gets you right in that feel good zone. A great flower to wake-up to. Of course, I always have my trusty cup of French Roast to accompany it.
Terry Funk vs. Jack Brisco © NWA World Heavyweight Title Match - November 13th, 1973
I started my smoking session with a gnarly hit from my three-foot bong. It's a really nice Amsterdam Glass piece with two main percolators and a big bowl. A gift from a good friend at work. My eyes watered from the hit as the first match lit up my television screen. The earliest Terry Funk match I could find on YouTube. It's from November 13th, 1973. And it's a CWF match from Fort Homer Hesterly Armory in Tampa, Florida. This appeared to be a pretty standard, but physical matchup for the NWA World Heavyweight Title. Jack Brisco is our champion, having won the title from Harley Race earlier in '73. The newcomer Terry Funk is challenging for the belt. These two bump all over the place and really gave the crowd a show. It's obvious that he is beginning to emerge from the shadow of his brother, Dory Funk Jr.
Terry Funk vs. "Cowboy" Bill Watts © - North American Heavyweight Title - ??/??/1975
Whooo… I am loving this weed. The Girl Scout Cookie strain has such a nice sweet flavor. It tastes so good with coffee! If you smoke cannabis, do yourself a favor and try this out. It's very nice. Bill Watts is another wrestler I am not too familiar with. This match is from 1975, but I can't seem to find anything about it. Both guys are champions here. Terry is billed as the International Heavyweight Champion with "Cowboy" Bill Watts as the Mid-South North American champ. The North American Title is on the line in this bout. It's a stiff looking fight that has Terry doing some more silly Funk stuff. I love how entertaining he is. It makes these old blow-hard wrestlers really shine.
Terry Funk vs. Jack Brisco © NWA World Heavyweight Title Match - December 10th, 1975
Another great match between these two! This one happening two years after that first one. I am disappointed that I could only find this small portion. These guys have great chemistry in the ring. And I wish I could have seen a lot more. This is another CWF match. However, this one is from the Convention Center in Miami Beach, Florida on December 10th, 1975. We join the match already twenty minutes in. I love how these guys sell. Funk has such an unusual way of working. It's really fun to watch. I loved seeing the Funkster selling for Brisco. He flops all over the place like a fish. Wow, this GSC Blue Cut is feeling pretty good. I think I will take another hit as I listen to Terry Funk and Jack Brisco waxing on about the match they just had. The hairstyles are amazing.
Terry Funk vs. Harley Race © - NWA World Heavyweight Title Match - Two of Three Falls Match - July 1st, 1977
Now the big daddy. I had to pack another bowl for this one. This is a legendary match during a legendary feud. A bloody battle between two tough sons of bitches. This war took place in the Houston wrestling territory by the Gulf Athletic Club and National Wrestling Alliance. It had Harley Race coming into the match as the champion, facing a hungry, ravenous animal in Terry Funk. Funk looked amazing. Totally out-wrestling the champion early in the bout. About a quarter of the way through the match, Race starts to mount a slow comeback. I am usually bored with these older matches, but this one has me on the edge of my seat. Maybe it's the bud. Either way, I love it. These guys literally beat the holy hell out of each other. It's insane! They wail on each other with big fists until Race hits an amazingly stiff Vertical Suplex. A beaut! Race submits Terry Funk to win the first fall in twenty-six minutes. They go back at it, and I am nicely stoned. Like… I feel really good. Man. The bell sounds and we are at it again. Harley Race lays in a nasty whoopin' on the challenger from Amarillo. But Funk is too crazy. It's like trying to wrangle a wild raccoon. He picks Race up like it's nothing and delivers one of the scariest piledrivers I've ever seen! Holy crap! Funk wins the second fall. That was nuts. Time for another big bong rip. The bell sounds again and these two pit-bulls are unleashed. Potatoes are flying all over the place. It looks like Funk is legit, trying to knock Harley Race's head clean off. The crowd goes insane when Funk goes for the dreaded Funk family Spinning Toe Hold. Then Funk gets split open like a watermelon. He is bleeding all over the place. It's something else man. They show this close up shot on Funk's face and it looks like a goddamn horror show. Funk's blood is all over Race! It's like Stone Cold/Bret Hart levels of blood. This is some old-school, dirty-ass wrestling. A tremendous match that you should definitely watch!
Well… that's the second Wake 'N Bake Wrestling. Terry Funk is one hell of a wrestler. One of the best. I feel pretty good about the wrestling I got to watch and the weed I smoked. They complimented each other really well. It kept me alert, focused, and creative. A good combination when I am writing these things! See you all next week!