Kane vs. The Undertaker took place at Wrestlemania XIV in 1998. Four years after Bret and Owen Hart fought the first brother versus brother match at Wrestlemania X. Everything about this match was cool. Kane was red hot. He was choke-slamming fools on Monday Night RAW for months leading up to this showdown. The Undertaker looked amazing, not as crisp as prior years, but still the Phenom that we all grew up being terrified of. These two bulls threw each other around for the first few moments. It looked like Kane had the upper hand for the majority of the match. They tombstoned each other multiple times. Hit each other with flying clotheslines, choke-slams, fists-of-fury… eventually it took three Tombstone Piledrivers from the Undertaker to put Kane away. The story of Kane and The Undertaker is one of my all-time favorite feuds, and seeing it all come to a head here at Wrestlemania XIV was awesome. The entrances alone are worth the viewing.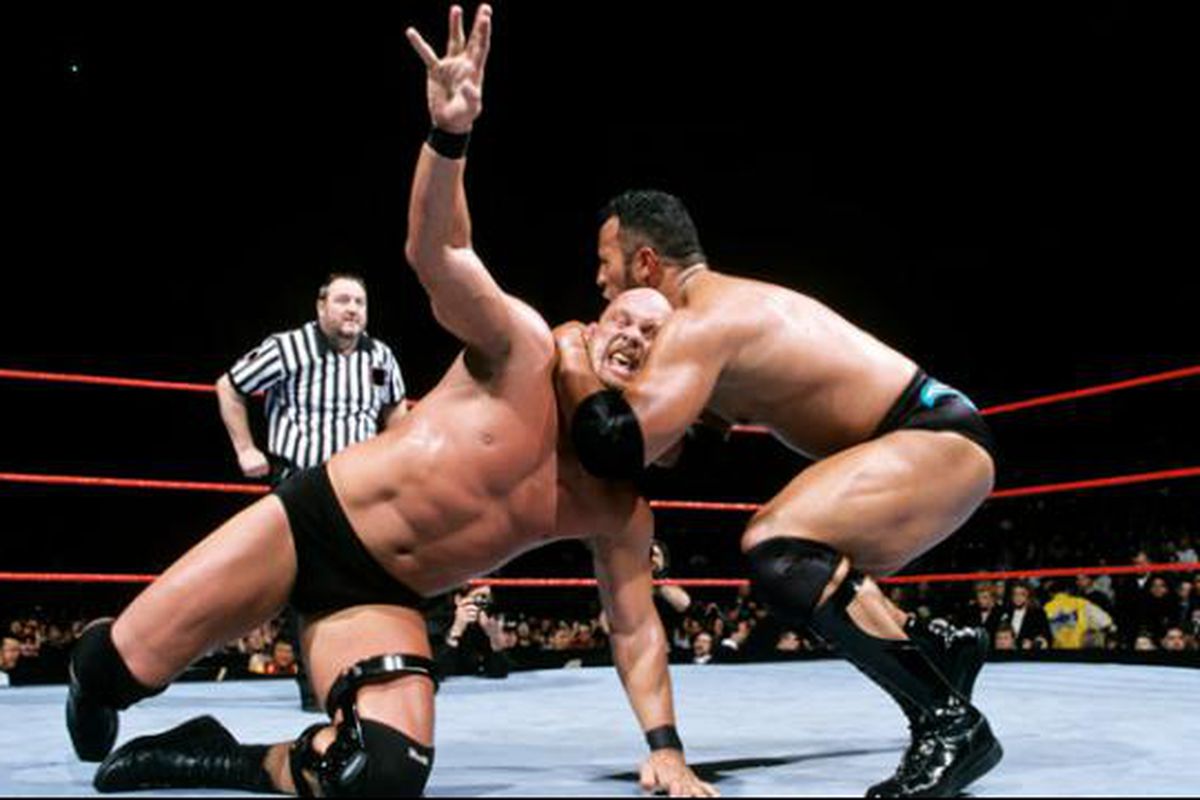 "Stone Cold" Steve Austin vs. The Rock
NO DISQUALIFICATION MATCH
WRESTLEMANIA XV
The Rock vs. "Stone Cold" Steve Austin for the WWF World Heavyweight Championship took place during Wrestlemania XV in 1999. Both men were the leaders of the new Attitude Era in the WWF. Both hugely popular with the fans and highly proficient in the squared circle. The Rock and Steve Austin went in there and tore down the house in Philadelphia. This is The Rock's greatest match and it's against one of the best competitors in the sport. The pop for Austin was outrageous, it's clearly bigger than The Rock's. The fan's just love hearing that glass breaking. It's just so… badass. The action is fast-paced and furious. Rock takes it to Austin all over the arena. It's intense. The in-ring action is just as gripping, even with the Attitude Era shenanigans going on.
The Hardy Boyz vs. Edge & Christian vs. The Dudley Boyz is a triple-threat ladder match for the WWF Tag Team Titles from Wrestlemania 2000. It's one of the most death-defying matches in Wrestlemania history, and serves as an important milestone in tag-team style professional wrestling. It also cemented all six wrestlers in as future Hall of Famers. The action is non-stop. The Hardy Boyz, Edge and Christian bring their high-flying agility. They leap off turnbuckles, chairs, ladders, everything. And the Dudley Boyz put them through those things. The ingenuity and ability make this match so damn good.
TLC II was a match that took place at Wrestlemania X-7 in 2001. A rematch from the prior years entry, before it was actually called a Tables, Ladders and Chairs match. This bout saw the return of the three original teams, The Hardy Boyz, Edge & Christian and The Dudley Boyz. Even with run-ins from Rhyno, Spike Dudley and Lita, this match managed to shine. All three teams put their bodies on the line.
The Rock vs. "Hollywood" Hulk Hogan was a big time dream match for most of the Attitude Era. That dream became reality in 2002 when these two faced off in a high profile exhibition bout. Hogan was playing up the heel gimmick as the leader of the nWo, a faction carried over from WCW. The Rock was electric as the face. A part-timer by this point, The Rock was splitting his time between the WWF and Hollywood. Hollywood Hogan looked good, he moved well and showed rare wrestling skill. The Rock brought the energy in the only way he can, with as much swagger shoved into it as possible.
Another Wrestlemania and another Dream Match. This time between the returning "Heart Break Kid" Shawn Michaels, and the charismatic Chris Jericho. These two would square off in 2003 at Wrestlemania 19. Chris Jericho had a lot to prove against the veteran Shawn Michaels, who had been out of in-ring action since 1998. This was the homecoming of "Mr. Wrestlemania". Cunning storytelling. Crisp in-ring action. This match had just about everything the fans could ask for, and it has gone down in history as one of the best matches in Wrestlemania history.
Chris Benoit vs. Shawn Michaels vs. Triple H took place in the Main Event of Wrestlemania XX in 2004, and it was for the WWE World Heavyweight Championship. This had been my favorite match for years. A tremendous bout that told a completely different story before that day in 2007. After a lot of thought and a few re-watches, I had come to realize that I still love this match through and through. But I understand why some people might have second thoughts about including a match like this one. Now this is a hell of a fight. It's as close as the WWE could ever come to Japanese strong-style wrestling. These guys go hell-for-leather and tear the house down. If you look at Chris Benoit's journey in professional wrestling up to this point, it makes the ending so much more emotional and ground-breaking. Both Triple H and Shawn Michaels were made guys in the locker-room so they didn't have as much to prove. But they didn't let that slow them down one bit.
Shawn Michaels vs. Kurt Angle was a personal dream match that took place at Wrestlemania 21 in 2005. I am a big fan of both competitors and love what they bring to the table. Shawn Michaels was deep into his return to the company after his five year hiatus. Kurt Angle was still looking for the next step in his career. Both guys turned out an amazing match that had me on the edge of my seat. Shawn Michaels and Kurt Angle really lay into each other in this bout, it's snug. Michaels is slower than in the past, but still very quick and agile. He even puts some of his technical wrestling on display. Angle plays the heel really well and appears to get frustrated through the match. His anger and frustration seems to make him fight harder and more passionate. The ending is very well worth it.
Edge vs. Mick Foley in a Hardcore Match took place at Wrestlemania 22 in 2006. Mick Foley was nearing the end of his career as an in-ring competitor. Edge was on an upward swing in his career, close to nearing his peak. Seconded by Lita, the Rated R Superstar was on a hell of a hot streak that the Hardcore Icon, Mick Foley was looking to end. This match incorporated everything that the hardcore bouts of the Attitude Era could. There were copious amounts of weapons, barbed-wire, tables and even fire that were utilized that night.