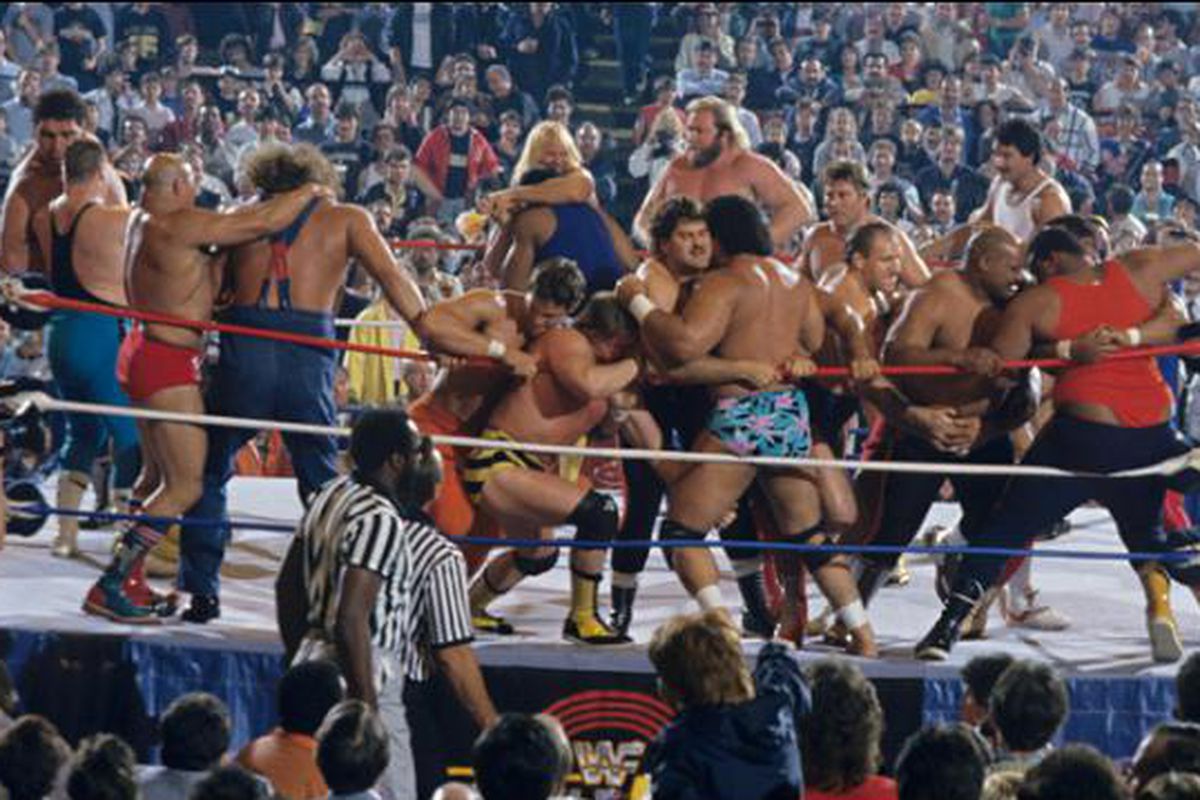 Welcome everyone to another edition of Wake 'N Bake Wrestling! This morning we are smoking Kevin's J27 from Kevin's Kind in Sonoma, California. Not a strain that I am familiar with. But according to the package, it's a relaxing but social strain with notes of sour citrus. And I gotta say, this is one very pleasant smelling strain. It has a very strong lemon scent that I instantly fell in love with. Beautifully trimmed, trichy, with pretty orange hairs. I couldn't wait to get into it.
With the WWE Royal Rumble coming up on Sunday, I thought we would get high and watch some classic battle royals I can find online. It seems like YouTube removed so many. Well, I hope I can find some good ones...
41-Man Over-the-top-Rope Battle Royal
WWE Smackdown - October 14th, 2011
I am firing up the bong and kicking off this thing with a huge 41-Man Battle Royal on Smackdown from 2011. It's a huge match with big names like CM Punk, Christian, Daniel Bryan, The Miz, Sheamus, John Morrison, Kofi Kingston, Randy Orton, and even smaller names like Yoshi Tatsu, Derrick Bateman (Known as EC3 today). This was an awesome bout that saw some of the biggest names in wrestling during the time. It worked like a Royal Rumble that saw the winner take on the Champion of their choosing. Those first couple of hits from the bong really have me focused on this match. It's insane. It tastes so good and has such a good high. I love citrus terpenes and this flower is bursting with 'em. I was just finishing up my bowl when this match appeared to be wrapping up.
As a bonus to that 41-Man Battle Royal, we get a Championship match between Champion Mark Henry and Randy Orton. It's not a very good match. This whole experience was marred by Heel Michael Cole and his constant shitting on everyone. It's annoying. This J27 has me getting kinda hungry. I think I gotta make a breakfast run.
Battle Royal at Royal Albert Hall
WWF - October 3rd, 1991
Okay, I am back with a Breakfast Burger from Carl's Jr. My cravings get the best of me. I am going to start this next Battle Royal while I eat. I am going to be watching this one on the WWE Network, the link is available right below the article. The Battle Royal at the Royal Albert Hall has an awesome cover. I recommend picking this up if you ever see it in a second-hand store. I am going to watch the titular Battle Royal. Eggs and Beef collide in my belly as the WWF superstars come out to the ring. I love this classic WWF stuff. It's corny in all the best ways. The Heel's were still bad guys and the faces were loved by the crowd. I am sipping my Venti Dark Roast from Starbucks (...yeah I made two stops, sue me!) and really enjoying the ass-beating Piper is laying down on Ric Flair. I love seeing Flair in these things too. He is killing it. Oh man, Earthquake is in there snappin' necks and Legion of Doom is looking hardcore as hell! What an amazing match! About time to pack the bowl again. Even though I am still feeling that first bowl. This is a really great strain.
40 Man Battle Riot Match
MLW Battle Riot - July 19th 2018
This final Battle Royal is going to be the MLW Battle Riot, a 40-Man true Battle Royal that doesn't just mean, over-the-top-rope, but also Pinfalls/Submissions count! MLW is an awesome promotion. We get solid action, great wrestlers, and tremendous commentary. All on YouTube for FREE! If you aren't watching this one then I don't know what to tell you… I mean, yes I do! Check out this Battle Riot Match. It's full of talented stars like Brody King, Pentagon Jr., Fenix, THE Kevin Sullivan with a Golden Spike in hand, and even the Spirit Squad. Damn… it was around the time when ACH came out that I took a hit from the bong that took me to another plane of existence. So delicious… then crazy hacking. This bud is very nice. A fine Indica for a well earned day off. Holy cripes, it's Konnan. The ring was cleared out around halfway through the match except for "Filthy" Tom Lawler, that dude is a beast. Then I thought I had smoked too much, but Teddy Hart came in and jumped right out of the ring. It picked up when Davey Boy Smith Jr. came out. Then names like Sami Callihan, PCO, Shane Strickland, and Homicide. And things got a lot more hardcore. My focus was starting to wain, but I was still having fun.

Three great Battle Royals featuring entertaining and skilled competitors. MLW Battle Riot was so much fun. I hope they stick around. Usually I don't watch this much WWE on here. But I thought I would get ready for Sunday. I never miss the big four. The J27 is a tasty strain from Kevin's Kind. I loved the taste and the relaxing effect, but I did find it to be a bit harsh. Not too shabby though.

What are you going to be smoking for this year's Royal Rumble?